Trueplay Helps Bona Fides to Bring Affiliate Marketing to the Next Level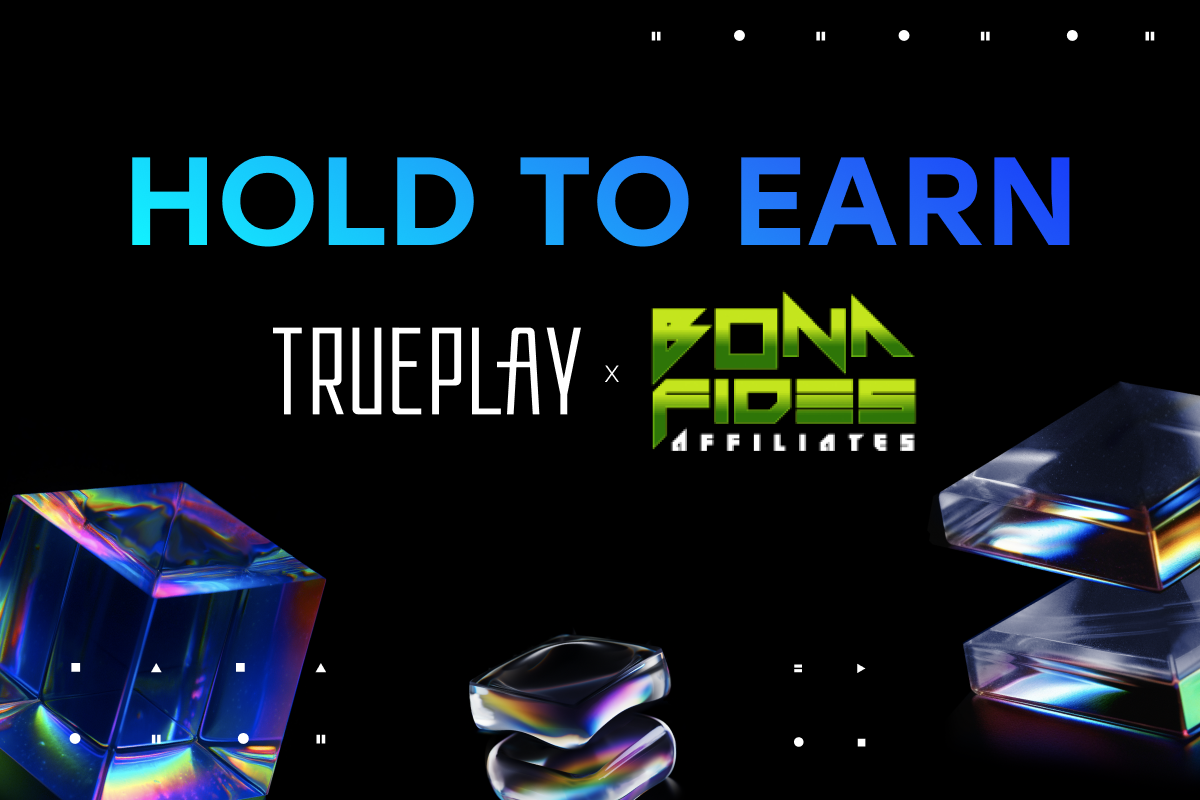 Trueplay's partner, Bona Fides, is an affiliate program that uses Trueplay blockchain technology. With our Blockchain Explorer, webmasters can make sure nothing is rigged, hidden, or shaved, so the earnings are always transparent.
Bona Fides is a revolutionary instrument for affiliates that offers a variety of benefits, including:
Transparency
Most of transactions are recorded on a blockchain, thereby making theft impossible. For example, webmasters can track and check the history of transactions, including users' bets and wins.
Convenience
Stable payments without delay twice a month, real-time stats update to enable instant campaign adjustment
Available tools to support affiliates include landings, pre-landings, banners, video creatives, texts, translations, promotional codes, advertising budgets, manager consultations, postbacks, and tournaments. More tools are available upon request.
Assistance
Reliable assistance by experienced affiliate managers
Read more about Bona Fides here.
Surely Bona Fides have pushed affiliate marketing to a new level, but they don't stop at this. They've recently introduced a new feature called 'Crypto Staking'.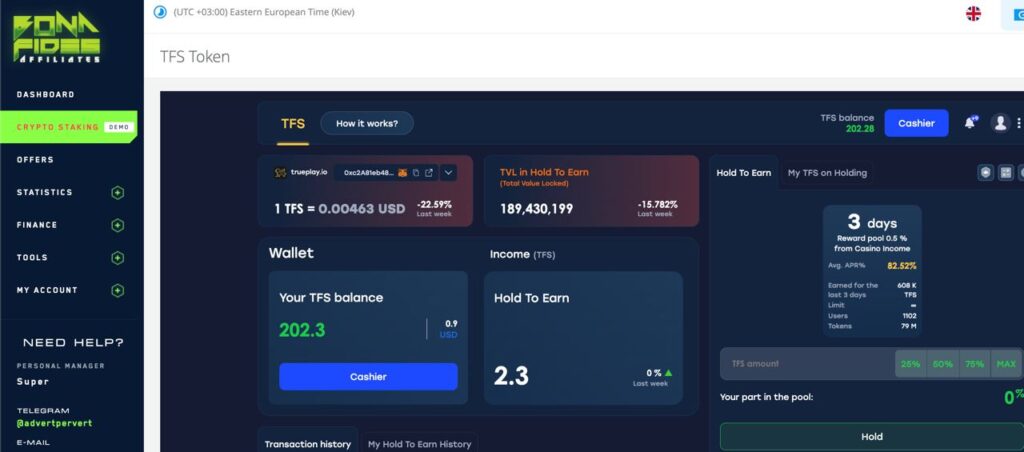 It is now possible for Bona Fides clients to effectively multiply their income through Trueplay's Hold To Earn program and Fairspin's TFS crypto tokens. And all this without even leaving the Bona Fides admin panel.
What are Fairspin and a TFS token?
Fairspin is the first blockchain casino, Trueplay's partner, and TFS is the token of this platform. TFS token is a key link that connects the chain between players and casinos. This token is the basis of the loyalty programs that make it possible to receive rakeback for making bets and multiplying this reward.
Trueplay's loyalty programs in action:
– Play To Earn – players receive tokens any time they make a bet, regardless of the game's outcome.
– Hold To Earn – players can stake their tokens with an opportunity to receive more if the casino's GGR is positive. There are several time periods to choose from.
Both of these programs were previously used in online casinos only. But why not use it in affiliate marketing? Bona Fides decided to be the pioneer in this direction, having introduced one of the features of tokenized loyalty programs to their clients.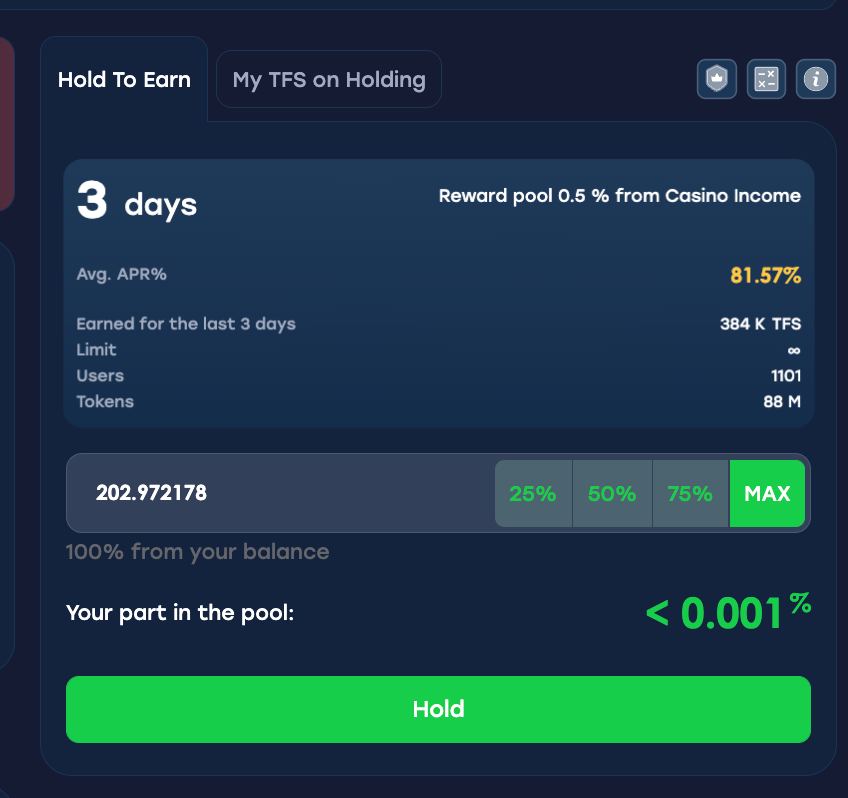 Bona Fides webmasters have an opportunity to multiply the partner's reward using the 3-day staking period. With Hold To Earn, partners can put their TFS on hold and freeze them for a 3 days period with a chance to get more if the casino's GGR is positive this day. The reward pool is a percentage of Fairspin's GGR.
A new payment method for partners' convenience
Bona Fides partners can now withdraw a part of their reward in crypto as TFS tokens, which became possible thanks to the Trueplay widget and our Hold To Earn integration.
Partners can either keep the TFS tokens on the inner Bona Fides wallet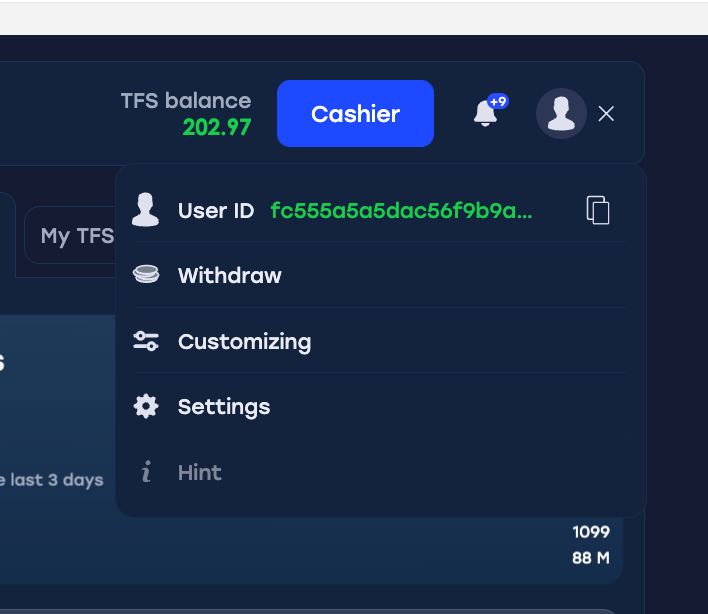 or withdraw them to a crypto wallet to exchange them for any other cryptocurrency.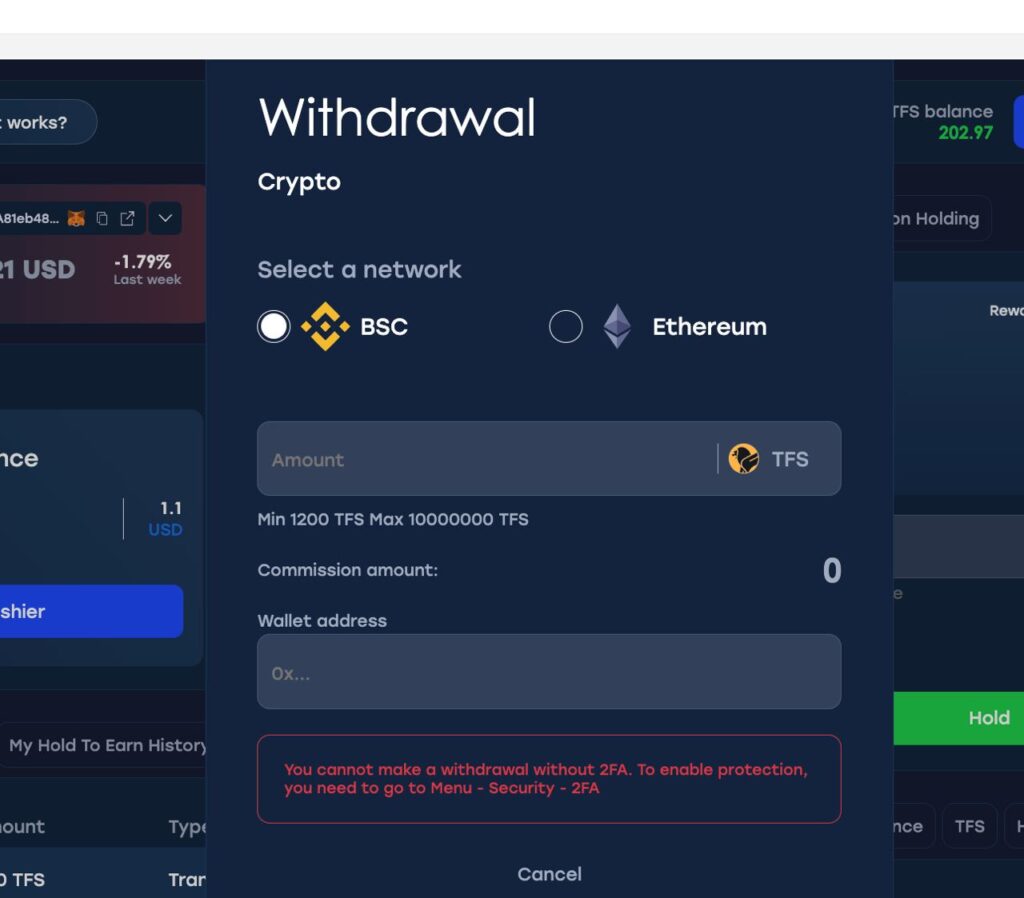 Keeping rewards in the TFS token means investing in the Fairspin project, which can be long-term beneficial.
It's worth mentioning that webmasters directly impact Fairspin's income as they bring traffic to the platform. So, Fairspin GGR directly depends on BonaFides webmasters, who, in turn, receive more rewards through Hold To Earn when bringing more traffic to the platform.
Earn with trust, earn more!
With the Fairspin token, Bona Fides webmasters can multiply their earnings and use crypto as a payment method. Not only is affiliate marketing easy and trustworthy with Bona Fides, but increasing profits with the crypto tool may be a game-changer.
Bona Fides keeps working on improvements for their clients and new ways to earn more. Stay tuned!